Back
Birdpia Hamakita - Vistor Center of Shizuoka Prefectural Forest Park
| | |
| --- | --- |
| Zip | 434-0002 |
| Address | 2597-7 Ono, Hamakita-ku, Hamamatsu-shi |
| Tel | 053-583-0443 |
| Fax | 053-583-2700 |
| URL | http://homepage3.nifty.com/shinrinkouen/birdpia.html |
| Hours | 9:00am-4:30pm |
| Admission | Free |
| Close | Wednesdays                                                       Days after Holidays                                                       New Year Holidays |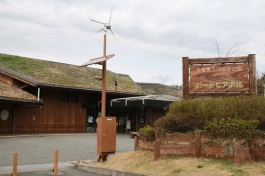 Establishment
Birdpia Hamakita-Vistor Center of Shizuoka Prefectural Forest Park was opened in March 26 2004. It is called Shizuoka Kenritsu Shinrin Kōen Vistor Center –Birdpia Hamakita in Japanese. Having "symbiosis" as the theme, it distributes information on birds and nature and provides an environment to learn about and to experience nature.
Contents
The facility offers insights and guidance about the nature and seasonal changes in the park. Experiences Exhibition Zone plays a video on a day in forest. It explains about smells of woods, voices of birds, and etc. You will learn how to observe birds properly in Observation Zone. Information Zone provides knowledge useful when you observe nature. Works Exhibition Zone displays pictures and drawings by visitors.Free guided tours, Guide Walk, are available on Saturdays. Events such as bird watching are occasionally held (reservation required).
Remarks
One-story
wooden bungalow was constructed with local materials. The institute tries to be environmentally friendly by having green roofs and using solar power, wind power, and rainwater.