Back
Hamamatsu Museum of Musical Instruments
| | |
| --- | --- |
| Zip | 430-0929 |
| Address | 9-1 Chuo 3-chome, Naka-ku, Hamamatsu-shi |
| Tel | 053-451-1128 |
| Fax | 053-451-1129 |
| URL | http://www.gakkihaku.jp/ |
| Hours | 9:30am-5:00pm |
| Admission | Adults: 500 yen                                 High School Students: 350 yen                                            Free for over 69 and Physically Challenged People |
| Close | 2nd&4th Wednesdays (except holidays)                                          Days after 2nd&4th Wednesday Holidays                                                              *Opens everyday in August                                                New Year Holidays                                               Facility Check Period                                                                Special Occasions |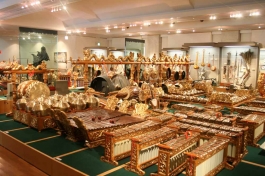 Establishment
Hamamatsu Museum of Musical Instruments (Hamamatsu-shi Gakki Hakubutsukan) was established as the first municipal music instruments museum in Japan in April 1995. The museum introduces cultures of all around the world through their music and instruments.
Contents
It displays approximate 1200 instruments in categories of regions (Asia, Africa, America, Oceania, Europe, and Japan) and themes. The scale of its permanent exhibition and the quality of various projects are the best in the East and one of the highest in the world. The projects include special exhibitions, lecture concerts, lectures, workshops, and recordings with instruments from the collection. Sounds of a hundred instruments and movies of thirty instruments being played are available on headphones and monitors equipped at displays. Audio guide devices are also available to use for free. African drums, Indonesian bamboo bells, handmade instruments, toy instruments, and many other instruments are available for play at Taiken Room (Hands-on Room).
Remarks
Once an hour during 10:00am to 4:00pm, they play cembalos and pianos from 18th and 19th century for ten minutes every day. Tours with guides are available on every Sundays at 11:00am and 2:00pm. A short concert is held by the staffs or special guests twice a month on Sunday at 2:00pm and 3:30pm.