Back
Shoda Wasaku
| | |
| --- | --- |
| Birth Place | Ishikawa-gun, Ishikawa Prefecture |
| Birth | 1898 |
| Death | 1972 |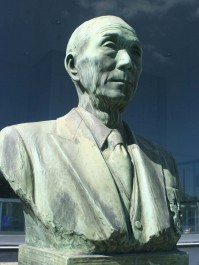 Overview
Shōda Wasaku is the founder of Shoda Iron Works Co.,
Although Hamamatsu had a major production of timber products since Edo period, the development on the machinery to process them was rather slow. He eyed on this and worked on developing wood processing machines.
Biography
He came to Hamamatsu from Kanazawa to work for an iron factory, Seien Tekkō, as an engineer of locomotive in 1923. He obtained knowledge about wood processing machines and blades there. In 1929, he established Shoda Iron Works.
In 1930, he created Bozo Toritsuke Bannou Marunoko Bann (Universal Circular Saw Machine with Mortises). This was a breakthrough improvement on circular saw machines. After WWII, he studied wood routers and came to a conclusion that foreign routers weren't suitable to work on Japanese woods. He created the first Japanese made wood router in 1947 and the world's first computerized woodworking machine, NC router, in 1968.