Back
Toyoda Sakichi
| | |
| --- | --- |
| Birth Place | Yamaguchi-mura, Fuchi-gun |
| Birth | February 14, 1867 |
| Death | October 30, 1930 |
Overview
Toyoda Sakichi was the founder of Toyota Group Companies.
Watching his mother weaving with an unproductive handloom grew his interest in developing looms. His invention includes the Toyoda Wooden Handloom, the Japan's first power loom, and more.
Biography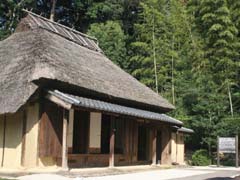 On January 14, 1967, he was born as the first son of a farmer family, whose father also worked carpentry jobs and whose mother was kind, in Washizu, Kosai. The naughty boy grew morose by the time he entered school.
He was a kind of person who hated asking people for answers and tried to find them out himself. Although his health was gentle, it improved ever since he took a walk from his house to Iwazu Tenjin Shrine and pray. "Self-Help; with Illustrations of Character and Conduct" motivated him to be an inventor. When he was around sixteen, he gathered his friends to study together at night.
During the day he worked as a carpenter, and he researched machines at night.
The Patent Monopoly Act applied in 1886 strengthened his desire for developing inventions even more. However, his father didn't approve it. His friends supported him to buy materials.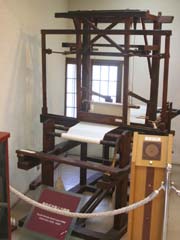 In 1890, he traveled to Yokosuka by newly formed Tokaido Line train to study.
There was thirteen yen, which was worth a great deal of money then, in the paper parcel from him mother. Yet, he returned in a half year due to neurasthenia.
When the national exhibition of Japan was held at Ueno Park, he visited the exhibition every day and noted the mechanism of weaving machines. He once again exerted himself for machine developments. Finally, he created Toyoda Wooden Handloom at the age of 24 and obtained the patent for that in next year.
His weaving factory began in 1892 with two looms he created. Since the factory's products earned good reputations, he advanced for the power loom development with the sales.
Although he married when he was 26 and lived in Tokyo with wife, she left him because of his extreme obsession with invention. His parents took care of the child she was pregnant with then afterwards. The business also failed and he returned to his hometown. He patented a device to wind skeins developed in Toyohashi in 1895. As he married with his second wife at the age of 30 in 1896, he took in his child with his first wife. The Japan's first narrow power loom, Toyada Wooden Power Loom, was completed in 1897. Same year, he and Ishikawa Tōhachi established a weaving company called Otsukawa Menpu. The prime minister of Japan, Ōkuma Shigenobu, visited the factory in 1899. In 1902, he earned the patent for the automatic warp let-off motion in Japan and Switzerland.
He continued inventing automatic apparatus and power looms.
The new machines he developed, the Sanjyūhachinen-shiki (Model Year 38) in 1905 (Showa 38) and the Sanjyūkunen-shiki (Model Year 39) in 1906 (Showa 39), sold so well that he could carry on the further developments. His invention around this time includes the automatic shuttle-changing motion, the double shuttle-changing device, the circular loom, and more.
Even though Toyoda Loom Works established in 1906, he was asked to leave the company as the business was unsuccessful in 1910.
Feeling that he was fooled by the stock holders, Toyoda traveled abroad including US, UK, France, Belgium, Holland, Germany, and Russia. By the time he came back to Japan, he realized that all his effort was for the development of industry in Japan. He opened Toyoda Automatic Weaving Mill. In 1914, he also established a small cotton spinning factory.
These companies became Toyoda Cotton Spinning and Weaving Company in 1918 with over a thousand employees. He also expanded his business in China. When people questioned the idea, he told them, "Open the shoji (paper door), the world is wide out there".
The all automatic loom he invented in 1924 was appreciated by all around the world. He patented it in nineteen countries. Miyamoto Jinshichi recommended people to use this machine too. Toyoda Automatic Loom Works established in 1926 began the manufacture of the loom. Toyoda told his son that, "The coming world needs cars. You must work on its development." He passed away on October 26, 1930 at the age of 64.
Personality
The guard at the Industrial Exposition told Toyoda, who visited there every day, not to come anymore. Toyoda told him, "Aren't you frustrated that all machines are foreign made?".
His mother took cold water bath in November to pray for his success.
There is a leather bag that Sakichi always carried.This bag, in which he kept blueprints of his inventions, is now the family treasure of Toyoda.
He often said, "Workers are treasure of the factory. They are important to me."
"The more people use my inventions, the better the country will be."
"I'm not talented more than anybody else. I just put lots of efforts and researches."
"There is nothing that can't be done. If you can't make something, it's because you haven't tried hard enough."
Reference
"Kosai Fūdoki Bunko - Kosai no Unda Ijin - Toyoda Sakichi" (Toyoda Sakichi - the Great Figure from Kosai -History of Kosai)
Toyoda Sakichi Memorial Hall