Back
Ishikawa Kuraji
| | |
| --- | --- |
| Birth Place | Shikatani-cho, Naka-ku |
| Birth | 1859 |
| Death | 1944 |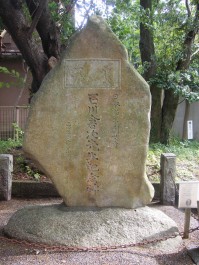 Overview
Ishikawa Kuraji was the deviser of Japanese Braille.
Biography
He was born in where is now Shikatani-cho, Naka-ku, on January 26, 1859.
His father, Senshichi, was a samurai worked for Inoue Masanao. The parents moved from Gunma to Hamamatsu in 1845.
They used to take young Kuraji to Tomitsuka area for fishing and shellfish gathering.
Since the age of 8 to 9 years old, he learned writings and martial arts. He was an excellent student and also learned English and western gunnery.
At the age of 10, he moved to Chiba.
In 1870, 12 years old Ishikawa attended a school in Tsurumai.
As the school system in Japan changed in 1872, the school closed and reopened next year as Tsurumai Elementary School.
Even though the family was financially struggling because the father lost his job due to the reorganization of administration, Kuraji graduated the school at the top of the class and became a supporting teacher at the school in 1875.
In 1881, he married with Kuno Sano and had a son in next year. Around this period, he studied Japanese linguistics and joined an association of the study in Tokyo called Kana no Kuwai. Konishi Shinpachi, a teacher Ishikawa met at the association who was trying to establish the new education system for blind students, invited him to teach at Mōain (present Special Needs Education School for the Visually Impaired, University of Tsukuba) in 1886.
Although there already were letters used by blind people to read back then, it was too complicate learn. Thus, Kuraji worked on creating the Japanese version of Braille.
Even though he faced difficulties because of the difference between western language and Japanese, he devised the method to form characters with 8 dots with helps from his coworkers and students in 1888.
Tōyama Kunitarō created a method with 6 dots in 1889.
In 1890, Ishikawa completed the method with 6 dots (3 dots high, 2 dots wide).
In the same year, November 11, the method of Kuraji was appointed as the Nihon tenji (Japanese braille). This date was set as the Tenji Day.
He released portable dotters in 1898. This enabled people to type braille anywhere.
This year, he also revised a method to form characters of yōon (i.e. kya, gya, pya) with braille.
Ishikwa braille typewriter was introduced in 1904.
After 20 years since he began the study, he finally established the method of braille to form all the Japanese characters.
In the next year of his visit at Hamamatsu, a monument was built in Hamamatsu Mōgakko (present Shizuoka Prefectural Hamamatsu Visual Special Needs School). Kuraji also attended the ceremony held then.
The later prime minister, Inukai Tsuyoshi, wrote the letter on the monument,
shōtoku
(literally, eulogy), and the later
minister of agriculture, Yamasaki Tatsunosuke wrote the title.
The monument was relocated at Hamamatsu Chuo Library in 1964.
He died at his evacuation home in Gunma Prefecture at the age of 86 on December 23, 1944.
Personality
He always took care of his health well. On the paper fan he carried around was written his health management method.
He kept a journal from his youth to his death.
As he had relatives all around the nation, he often traveled.