Back
Kinpara Meizen
| | |
| --- | --- |
| Birth Place | Anma-cho,Naka-ku |
| Birth | June 7, 1832 |
| Death | January 14, 1923 |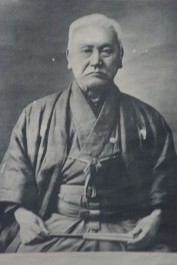 Overview
Kinpara Meizen contributed greatly to the development of modern Japan's development by handling many social projects including the flood control of the Tenryu River, Hokkaido Development, and afforestation.
Biography
On June 7, 1832, he was born in Anma-cho as the first son of a major landlord, who ran a pawnshop and a brewery, and owned farms, forests, and many other real estates. The father's name was Michitada and the mother's was Shigako.Yachirō (his original name) was a delicate child and didn't go out much. He attended a school located 5km away from his house.He learned there that the goal of the academic study is not to learn theories but to learn how to apply those to practical uses. It became the belief of his family.
Yaichirō married 17 years old Tamaki when he was 22. The next year his mother died, 1868, he changed his name to Kyūemon at the age of 37.
Having cured high fever by drinking water from the Tenryu River when he was 17, he saw the river as his lifesaver. In order to undertake a flood control project at the Tenryu River, he submitted a white paper to the newly formed Meiji government (which was led by Iwakura Tomomi, Kido Takayoshi, and their associates). The Court Yoshida appointed him to be in charge of the construction of flood control at the river. Kinpara exerted himself to put an end to the flood disasters along the river. The construction was managed with donations and his funds in 1868. During the construction, he lived at the worksite and worked with only a few hours sleep per day. Emperor Meiji visited the field and awarded him for the hard work with a prestigious prize.
The government changed its administrative system (HaihanChiken) in 1871.
With the view that a rich mind would always lifts one up from troubles, Kinpara found Kinparake Jyūku (literally, school of Kinpara), which was renamed to Suiri Gakko (literally, school of water use) afterwards.The school offered three year study of the flood control engineering for youths in age range between 15 and 20 years. The graduates joined the construction of flood control at Tenryu River. He assisted those who were outstanding at the school to work for Civil Engineering Bureau in Home Ministry and to enroll in universities. As the number of students increased, he built a school building on the south side of his house. It later on became Wada Elementary School.
He concluded that the width of Tenryu River should be about 900m based on the survey co-operated with Fukuoka Hisashi on both sides of the river from Futamata-cho Kashima to Kakezuka Port (25km). Since there was no fund to carry on its levee repair project, he volunteered to dedicate 1,000 yen annually.
He changed his name to Meizen (明善) in 1873. The name expresses his desire to contribute luminous (明) good deeds (善) to society.
In same year, he was assigned as the director of constructions at Tenryu River. The full authority of all projects at the river was given for the first time to someone who is not a public employee. Hayashi Atsunori, the governor of Hamamatsu Prefacture then, and many others advocated Kinpara's plan to found a levee construction company by locals.
He established the Japan's first local bank, Hamamatsu Shikin Kashitsukejyo, in Tenma-cho.
He became the president of a levee construction company, Tenryu Teibō Kaisha. The company renamed as Chika Kyōryokusha in 1875.
The merge of Hamamatsu Prefecture and Shizuoka Prefecture in 1876 caused the reduction of the subsidy for constructions at the Tenryu River. Kinpara understood that arguing with the prefecture would accomplish nothing. Thus, he
directly appealed to Okubo Toshimichi, the first
head of Home Ministry, for the original amount of subsidy in exchange for his all properties.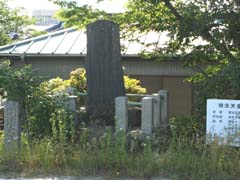 People began to recognize him as a great man rather than a man crazy about rivers since he was granted an audience to Emperor Meiji in 1878. A monument was built in 1898 at where throne was placed when the emperor visited his company. The monument is now on the bank of the river.
A bridge over Lake Hamana, Hamanako Kakyō, was build in 1882 with funds from local magnates persuaded by Kinpara
The government handed the properties he dedicated earlier back to him when the construction at the river became his direct management in 1885. He planed afforestation in Tatsuyama-cho Sejiri with that. The project began on February, 1886, completed on July, 1898. It was two years earlier than the plan.
He received the Medal of Honor with Yellow Ribbon in 1888.
In 1889, he welcomed his first disciple, Suzuki Shinichi who later on became to have a great power over Hamamatsu's economy.
When the Tōkaidō Line opened in 1890, he built a cargo station near the river and founded a freight company called Tenryu Unyu Kabushikigaisha. Carriage charges of timbers declined by collecting them at the station for further transportation after they landed from the river. The station became a railroad station, Tenryugawa Station, in 1898.
In addition, he started a sawmill company, which became Tenryu Lumber Co.,Ltd afterwards, to process timbers before their freight.
He received the Medal of Honor with Blue Ribbon in 1892.
Kinpara Ginko (the bank of Kinpara) established, and he held the post of its presidency in 1897. This bank became a kabushikigaisha (a joint stock company) with Kinpara Misaburō as the president in 1917. The company ended its history of more than 50 years when it merged with Mitsubishi Bank in 1940.
He set his family precepts in 1900.
The Path One Should Follow
1. Results must come before recognition.
2. Deeds must come before words.
3. Value projects, but never disregard yourself.
He established Shizuoka-ken Shanrin Kyokai (literally, Shizuoka Mountain Forest Association) in 1902. As the chairman, he carried out the afforestation at Mt. Fuji. As he established Kinpara Sosui Zaidan (literally, Kinpara Canal Foundation), he transferred the forest in Sejiri to the foundation in 1904. However, Since Mikatahara, the place he intended to open a canal at, assigned as a military land, he gave it up, and changed the foundation's name to Kinpara Chisui Zaidan (literally, Kinpara Flood Control Foundation).
In 1908, he was appointed the mayor of Wada Village (Wada-mura).
80 years old Kinpara climbed Mt. Fuji for the second time in 1911 following his first time at the age 73.
He donated money to Social Welfare Organization Saiseikai Imperial Gift Foundation, Inc, which was established this year to help the poor with illness. His donation was 50,000 yen while other donations were 1,000 yen at the most. The money donated to Chika Kyōryokusha for the afforestaion at Sejiri was handed back to him as the company disbanded. He kept that money and made this donation The prefecture honored this generous action, and published a book regarding his life and works in 1913. The book is called "Kinpara Meizen to Sono Jigyō".
Meizen became a councilor of Saiseikai Imperial Gift Foundation, Inc.
When he was nominated to received Shogo-i, the senior fifth rank in Japanese court rank, he asked funds for repair of Kashihara Shrine in Nara-Ken in exchange of receiving the rank. The Okuma Cabinet agreed.
In 1915, he was granted the Zuihōshō (Order of the Sacred Treasure).
His 88-year-old-celebration took place on August 8, 1919 at Chōtōkan, a traditional Japanese restaurant in Hamamatsu.
In 1992, he went to see mountains in Sejiri from Tokyo when he was 91.He went by boat from Nakano-machi to upper stream of Tenryu River, and proceeded deeper into forest by palanquin. The place he stayed on this account, Ume no Hira, built Meizen Shrine in 1942.
It locates about 40 minutes drive from Urakawa, Sakuma-cho.
He passed away on January 13, 1923.Myōonji, locates at Tenryugawa-cho , enshrines him.
Meizen Memorial Hall was established in 1960, aiming to honor his works and to hand down them to future generation. The museum preserves and displays his belongings, calligraphies, relevant documents, and works from people who were closed to him.
His birth house stands next to it, and is also available for visits. It is planned to be renovated in the summer 2010.
Meizen Matsuri, or Festival of Meizen, takes place on January every year. It is staged by Meizen Kai (literally, the associated of Kinpara). The Mayor of Hamamatsu is the chairman of the association. The 87th Meizen Matsuri was held on January 14, 2010.
Reference
"Enshū Ijinden Dainikkan"(Stories of Great Figures of Enshū vol.2)
Visited