Back
Gogahira Kofun 4
Address
Miyakoda-cho, Kita-ku,
Hamamatsu-shi
Time
The early 6th century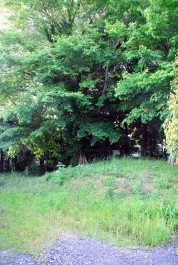 Overview
The Gogahira Kofun 4 is the only remained tomb among the kofun (mounded tomb) group in the north of Mikatahara, which consisted of eight tumuli. In spite of its small scale, the City of Hamamatsu designated it as an official historic site of the city in 2006 because of its well preserved condition of a typical key-hole shaped kofun.
The researches held in 1998 and 2005 revealed that it was a key-hole shaped kofun with length of 26.6m and height of 2.5m. The circular part is 16.5m in diameter. The tomb is believed to be built for a member of a powerful family along the Miyakoda River in the early 6th century. Artifacts unearthed include haniwa or clay figures in shape of cylinders, trumpet-like (asagao-nari), and horses. Clay figures were also discovered from the 6th kofun of the group, which was located south of the 4th. They had shapes of miko (shrine maiden or female shaman) with a pot in hand, warriors, and horses.
The site is available for visits.
Reference
"Hamamatsu no Iseki 2"(Archaeological Sites of Hamamatsu 2)